Vaginal Rejuvenation: Meaning, Benefits, Cost
Vaginal rejuvenation has grown in popularity in recent years as women have taken greater ownership of their health. But what is it? What are the benefits? And how much does it typically cost?
Let's take a look.
What is vaginal rejuvenation?
As you get older, a lot of things stop working as well as they used to. And your intimate area is no different. You may have noticed:
The skin around it starting to get a little flabby
It's less sensitive than before, which can make sex less pleasurable (or even painful)
You leak urine involuntarily, or regularly need to go to the toilet
Decreased sexual desire, or libido
Excessive dryness
Whilst many of these issues happen naturally as you age, they can also happen as a result of events such as menopause or pregnancy. These are traumatic events for your body and place a lot of pressure on your bodily functions.
Whatever the issue, vaginal rejuvenation aims to restore the natural functions of your intimate area. It can give you:
Greater feelings of confidence and self-esteem
Less dryness in the intimate area
More sensitivity and more pleasurable sex
Greater sexual desire
So those are the potential benefits of vaginal rejuvenation – but how does the treatment actually work?
How vaginal rejuvenation works
There are two types of vaginal rejuvenation treatments: surgical and non-surgical.
Surgical
Surgical vaginal rejuvenation treatments include:
Labiaplasty, which aims to reshape the inner lips (or labia minora) of your vagina
Vulvoplasty, which aims to reshape the outer lips (or labia majora) of your vagina
Vaginoplasty, which repairs your vaginal canal, typically after childbirth
Clitoral hood surgery, which reduces the amount of skin around your clitoris
Although surgical techniques can be effective for moderate to severe conditions (more about that in the next section), they do come with a few downsides. They're expensive, patients often need some time to recover after the treatment, and the whole process (from consultation to surgery) can be time-consuming. For these reasons, many women opt for non-surgical techniques.
Non-surgical
Non-surgical vaginal rejuvenation normally uses a CO2 laser or electromagnetic waves to gently heat your intimate area. This process triggers the production of more collagen in your body, which is a protein vital for maintaining skin firmness.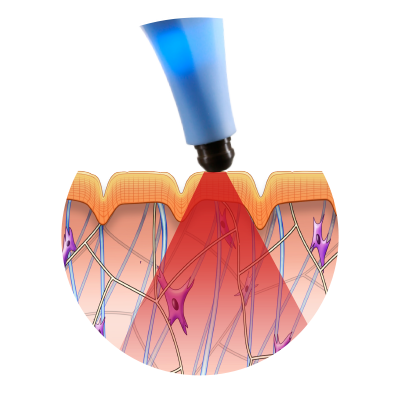 Whilst most laser techniques are non-invasive, some may insert a small device into your vaginal canal to heat the tissue from within. Non-surgical techniques have little to no downtime and are often more affordable than surgery. And as we'll explore in the next section, they can be just as effective.
Does it work?
There's plenty of evidence to suggest that vaginal rejuvenation is an effective treatment for women.
As you can see, both surgical and non-surgical vaginal rejuvenation are effective ways of treating a number of female health concerns.
How much does it cost?
This depends on a few different factors.
Firstly, surgical techniques are generally more expensive than non-surgical treatments. According to RealSelf:
Vaginoplasty costs an average of $5,800
Perineoplasty costs an average of $4,725
Labiaplasty costs an average of $4,350
Laser and radiofrequency treatments tends to be much cheaper. At Dundrum Clinic, one session with the Exilis Ultra 360 at our Dublin clinic costs €450. A packet of three sessions costs €1,000.
The verdict
Vaginal rejuvenation restores the normal functions of your intimate area using surgical or non-surgical techniques.
It can improve your sexual desire, give you greater sensitivity in your intimate area, improve the quality of your sex life and alleviate the symptoms of incontinence.
Surgical treatments tend to be more suitable for moderate to severe conditions, whilst non-surgical techniques are better for mild cases.
A number of clinical studies have found it to be an effective treatment for a variety of female health issues.
The average cost of vaginal rejuvenation is around $6,000, but non-surgical tends to be significantly cheaper than surgical.
---
We currently have a special offer on for vaginal rejuvenation:
6 sessions with the Emsella
3 sessions with the Exilis
was €1,800 – NOW €1,200
Get in touch to learn more.