Make your skin glow in less than a lunch hour
How would you like to get better-looking skin in your lunch break? If you're concerned by mild acne, fine lines and wrinkles, sun damage, rosacea or just want to give your face a bit of added pep, then one of our microdermabrasion treatments may be just the thing for you.
Using a spray of microcrystals or a diamond tip, our range of customisable formulas exfoliate your tired skin and reveal the youthful layer underneath, before being swiftly vacuumed away again. No needles, no anaesthetic. It's the painless, non-chemical, superfast way to a more radiant you.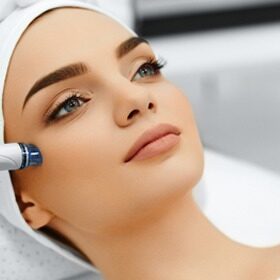 Man or woman, 30 minutes is all you need
Microdermabrasion isn't just for women either – we get great results helping men with razor bumps, ingrown hairs and razor burn too. Best of all, the entire treatment can take as little as 30 minutes with no downtime, meaning you can be back at your desk, ready to tackle the afternoon and looking the best version of you, without missing a beat.
For more information about microdermabrasion, get in touch with our fully trained practitioners. A professional, initial consultation costs just €20 – refunded in full should you choose to take up treatment here at Dundrum Clinic.
Frequently Asked Questions
For more information, get in touch with us to book your professional, fully refundable, €20 initial consultation today.