Tattoos are forever, aren't they?
Getting a tattoo is a big, permanent deal. The tattooist applies ink, which can't be broken down by the body, below the surface of the skin. As you age, your tattoo ages with you. While you were probably fully aware of that at the time, it doesn't mean your feelings about your tattoo can't change as the days, and years, pass by.
Perhaps your body art represents a time, place or person you'd rather now forget. Maybe you weren't happy with the quality of the work or feel it looks less good now you're older. Or it simply might not represent the person you are today. Whatever the reason, if you need to change your mind, we're here to help.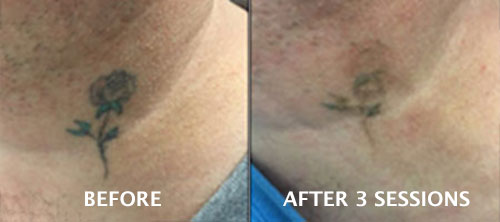 The best tattoo removal technology in Ireland
 Laser treatment is the modern solution to tattoo removal.
And here at Dundrum Clinic, we offer a range of lasers to suit your requirements, including the very latest, state-of-the-art technology PicoSure laser.
Tattoo removal is the act of gradually fading the ink over time, using multiple treatments of pulsing light which break down the ink into absorbable particles. Whether you want a tattoo partially or fully removed, we'll make sure you're informed about the best option for your circumstance
Start safe and professional removal today
If you'd like more information about tattoo removal, get in touch with our fully trained practitioners. A professional initial consultation provides you with all the information you need and costs just €20 – refunded in full should you choose to take up a package of treatments in Dundrum Clinic.
Frequently Asked Questions