Melasma – a common problem…
If you've noticed dark, brown-grey patches appearing on your face, then you may well be suffering with melasma. It's a common skin pigmentation problem which, whilst unlikely to lead to any more serious condition, can still be visually upsetting to those dealing with it.
You're more likely to be at risk from melasma, although not exclusively, if you're a woman with a darker complexion who sees more of the sun than most. You may notice that the strength of discoloration intensifies in the summer and fades in winter.
The causes aren't well understood, but melasma is often linked to hormonal changes, which is why women taking oral contraception or undergoing hormone therapy may notice the tell-tale patches appearing, but it may also be connected to stress or even thyroid imbalances. It's common with pregnant women too, when it often goes by the name 'pregnancy mask'. If you are pregnant though, you will need to wait until afterwards to receive this treatment.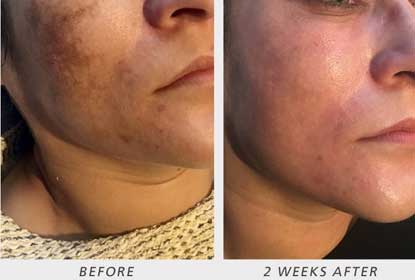 …With an effective solution
Whatever the specific causes of your melasma, Dundrum Clinic is here to help. We use the Cosmelan system which works safely and effectively to improve your skin pigmentation on whichever part of your face or body is affected. So you no longer need to feel embarrassed by skin discoloration.
For more information about our melasma treatment, get in touch with our fully trained practitioners. A professional, initial consultation costs just €20 – refunded in full should you choose to take up treatment here at Dundrum Clinic.
Frequently Asked Questions