Deep Pore Facial Cleansing
Deep Pore Facial Cleansing
Your face goes through a lot
Whatever your gender, your skin puts up with a lot of stress, 24/7. Pollution, sun, wind, rain, make-up and perspiration are just some of the day-to-day factors your face has to contend with. For the most part, your skin does an outstanding job of coping with everything that's thrown at it. But time takes its toll and even the best of us need a helping hand every now and then.
Take a break. Treat your hard-working skin to the deep pore facial cleanse treatment it deserves. Whether your complexion is uneven, feeling oily, struggling with acne or dry and prone to fine lines, this treatment will come to the rescue and rejuvenate your tired skin, leaving you looking younger and ready to tackle the strains of a busy daily life once again. Make an appointment today. Your face will thank you for it.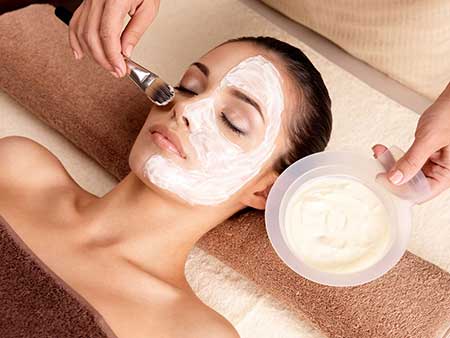 Book your deep pore facial treatment today
For more information about deep pore facial treatment, get in touch with our fully trained practitioners. A professional, initial consultation costs just €20 – refunded in full should you choose to take up treatment here at Dundrum Clinic.
Frequently Asked Questions
Who is deep pore facial treatment for?Expand
These are highly recommended for men or women who have oily skin with heavy acne and even those with uneven complexions. This is also a good treatment for dry skin and fine lines or if you just want clean-looking skin.
We also recommended a deep pore facial cleansing before any laser treatment.What are the benefits of deep pore facial treatment?Expand Deep pore cleansing can be very valuable for facial rejuvenation because the procedure helps to nourish the skin by stimulating blood circulation. With regular treatments, deep pore cleansing will tone the muscle fibres, increase skin strength, and tone through regular facial massage, all of which have been found to help slow the natural ageing process and reduce the signs of ageing.
Your skin will appear more hydrated, with a reduction in the fine lines achieved through exfoliation. New skin cells will be stimulated to grow, maintaining a more youthful appearance. How does deep pore facial treatment work?Expand
The detailed process for our professional deep pore facial treatment includes skin analysis, steaming, deep skin cleansing, blackhead removal, exfoliation, facial massage and the application of a customised healing mask.How many treatments are needed?Expand
Depending on the number of blackheads, it can be 1, 2 or 3 sessions. When pores are clogged, manual extraction has to be carried out on each individual pore.Is it painful?Expand At Dundrum Clinic we recommended the use of exfoliating products 2 weeks before your appointments to help prepare your skin for the extraction process. Apart from this, we use a chemical peel as well as a hydrafacial vortex extraction step, a cleansing and exfoliating mask to help the extraction, and a numbing cream. Even with the application of the numbing cream, if your skin is sensitive and you have low pain tolerance, the extraction process can be somewhat painful. In this case, we may recommend you book a DPC injection, this is very similar to what a dentist uses. Prior to the injection, a numbing cream is used to avoid any discomfort.
The full face extraction with the anaesthesia injection is €195 and takes about 1 hr 30 minutes per session. How much does deep pore facial treatment cost?Expand
The full process of skin analysis, steaming, deep skin cleansing, blackhead removal, exfoliation, and application of a customised healing Casmara mask takes around 90 minutes and costs €160. We have a mini Deep Pore Cleans which includes steaming, deep skin cleansing, blackhead removal, exfoliation, and application of a mask that is of 60 minutes duration and costs €135 BOOK THIS TREATMENT HERE