Microneedling – but not as you may know it
There's something of a buzz around microneedling at the moment – which is no surprise to us as we've been offering it for years.
But let's be clear: this isn't your risky, cheap, at-home roller version. This is a professional service using dermatologist-grade equipment. Unlike the manual rollers, with their fixed-length needles, scatter-gun approach and potential for scarring or infection, our adjustable-length microneedles are precision-operated by fully trained therapists.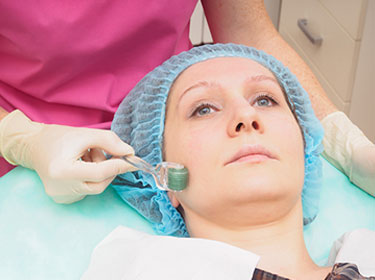 Get effective results the professional way
So if you're considering microneedling to treat aged, sagging skin, acne scars, lines and wrinkles, dehydrated skin, scarring, sun damage, stretch marks or anything else, don't cut corners or take a chance, come and see the experts. It's the worry-free way to stimulate collagen production and achieve firmer, more elastic, more evenly toned skin.
For more information about microneedling, get in touch with our fully trained practitioners. A professional, initial consultation costs just €20 – refunded in full should you choose to take up treatment here at Dundrum Clinic.
Frequently Asked Questions