Dundrum Clinic Gift Voucher
Finding it hard to choose the right gift for someone special in your life? If you are looking for a gift that is sure to please then look no more, at Dundrum Cosmetic Clinic we have the perfect gift for every occasion. You can't go wrong with a Dundrum Cosmetic Clinic Gift Voucher. This is the ideal gift for birthdays, Mother's Day, Father's Day, Valentine's Day, anniversaries, Christmas or just when you want to do something special for someone special. Put a smile on that special someone's face with one of our gift cards.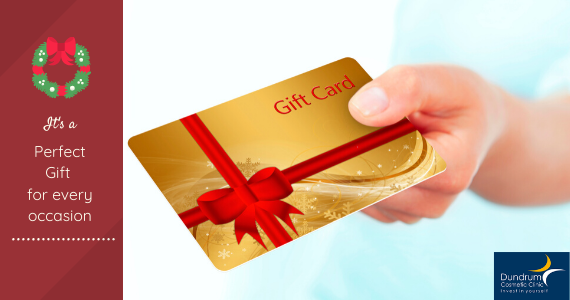 Our Gift Voucher is a thoughtful gift for any occasion; it's the gift that keeps giving because any of our wonderful treatments will make that someone special look and feel great for months afterwards.
What makes Dundrum Cosmetic Clinic Gift Card such a great gift?
You can choose the value of the Gift Card.
When they want they can exchange our Gift Voucher for one or a series of treatments.
We have a wide range of treatments to choose from making it easy to find a treatment that's just right for him or her.
Our therapists are not only excellent professionals but also friendly and helpful.
During a consultation that special someone in your life will receive expert advice on which type of treatment best suits his or her needs.
At Dundrum Cosmetic Clinic we use only the latest cutting edge technology.
You can be sure you've made the right choice with a Gift Card from Dundrum Cosmetic Clinic.
For more information on our Gift Vouchers call us on 01 2166 778, or fill out the Contact Us form and we will get right back to you.