Permanent MakeUp Removal
Ever wish you could time travel?
Sometimes, if you could simply wind back the clock and undo a decision, you would. Semi-permanent makeup is essentially a tattoo and the ink in tattoos just doesn't break down on its own, no matter how hard you try. Which, if you don't like the way it's turned out, can be a problem.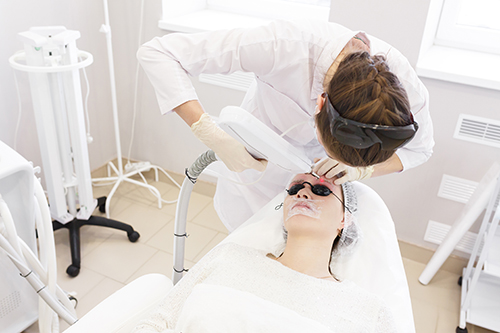 Get permanent makeup removal from the experts
If you're disappointed with the way your permanent makeup procedure looks, don't worry, help may be at hand. At Dundrum Clinic, our highly skilled specialist has been using the latest laser removal techniques for more than 14 years. By employing a range of different lasers, we can help you gradually fade away your makeup tattoo. And you can stop wishing you could wind back the clock.
For more information about permanent makeup removal, get in touch with our fully trained practitioners. A professional, initial consultation costs just €30 and is non-redeemable.
Frequently Asked Questions
How does permanent makeup removal work?
Permanent makeup can stay in place for more than 10 years. The ink particles used are too big for the immune system to get rid of naturally. By passing laser energy of a very specific wavlength through the skin, the ink is broken up, and the body can then remove this over a period of time. How long does permanent makeup removal take?
Initial consultations take 30 minutes and treatment sessions typically take between 15 and 40 minutes, depending on the complexity of the ink. The ink fades in colour after each treatment. In general, expect to need three to four sessions to achieve optimum results. Do all inks respond to treatment?
No. For most people we're able to remove the tattoo. It's not possible for one type of laser machine to remove all colours of ink, this is the reason why we use up to three laser wavelengths to ensure the best possible results. We'll be able to advise further during your initial consultation. Does permanent makeup removal hurt?
There is some discomfort during the treatment. At Dundrum Clinic, we have the benefit of the Coolblast Cooling System to aid with your comfort. A local anaesthetic is also available if required. What happens after permanent makeup removal?
There are many potential tissue responses that may occur, including swelling and redness similar to a sun burn. The treated skin should go back to normal within a few days. Some people experience blistering. This is normal and does not mean you will scar. Ensure the area is kept out of strong sunlight between sessions. We recommend you use a good sunblock, we can advise you further on this at your session.
As laser light, in addition to the ink particles is absorbed by skin pigment, patients may notice some lightening of the skin. We advise clients to carefully follow the required aftercare protocols for permanent makeup removal.
When directions are followed, the skin will normally recover well post treatment. Occasionally, mild changes in skin texture may occur. Because of the proximity to the eye, we are unable to treat the area covered by eyeliner. How much does permanent make-up removal cost?
Each permanent makeup removal session, delivered by our highly experienced specialist, costs €100. For more information, get in touch with us to book your professional €30 initial consultation today. This consultation fee is non-redeemable. BOOK THIS TREATMENT HERE
Call us 01 2166 778