A versatile skin treatment
Do you want to keep your skin looking firm, fresh and youthful? CO2 laser skin resurfacing can help you do it!
It uses beams of light to gently remove the outer, damaged layers of your skin, which your body automatically replaces with fresh new ones. This can help to improve the appearance of:
fine lines and wrinkles
bags under your eyes
acne scars
brown spots and pigmentation
loose and flabby skin
CO2 laser skin resurfacing is a versatile treatment - but it's also an effective one. You could see results after as little as one session.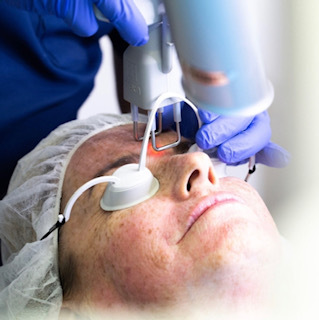 Stimulating your body's natural processes
When we perform CO2 laser skin resurfacing, we're simply stimulating your body's natural processes.
Once the laser breaks down your damaged layers of outer skin, your body starts replacing them with new ones. It also starts to produce more collagen; a protein which is vital for maintaining the firmness of your skin.
Simply put, the more collagen your body produces, the firmer your skin will feel.
For more information about the treatment, you can book an initial consultation with us. It costs just €20, which is refunded in full should you choose to take up treatment here at Dundrum Clinic.
Frequently Asked Questions