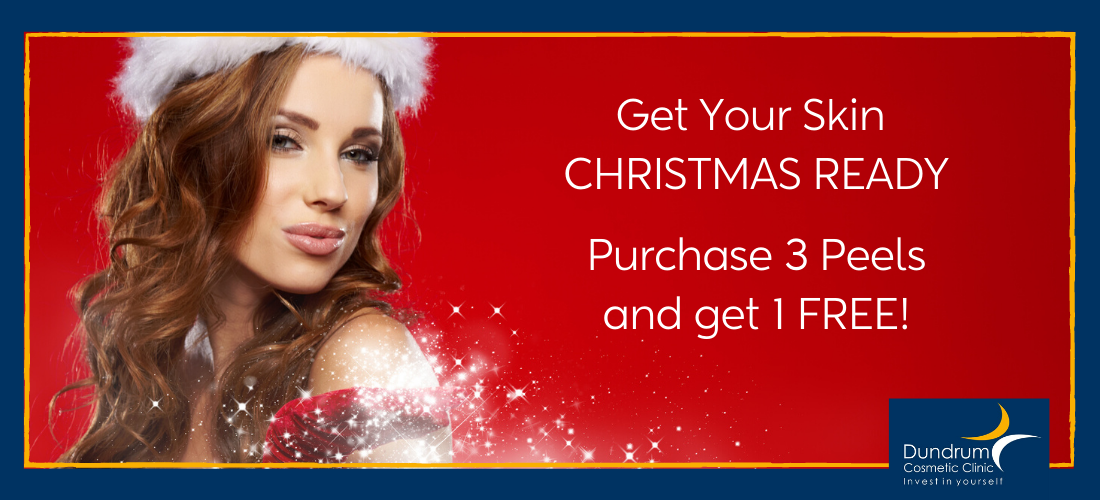 Christmas is just around the corner and with a chance to catch up with friends, family, and loved ones, even if it's over Zoom!. Although it's the most wonderful time of the year, it can also be a stressful time of the year. So when you're feeling a little worn down, you don't want that to be reflected in your skin.
That's why here at Dundrum Cosmetic Clinic we've prepared the perfect Dundrum Christmas deal to help keep your skin looking as good as it can be as we head into the festive season, especially after the year we've had!
For this month only we're giving away a FREE chemical skin peel when you buy three. Chemical peels are a proven way of treating any number of imperfections on your skin as well as ensuring it stays looking as fresh and natural as possible.
When applied to the skin they produce a unique rejuvenating effect, treating conditions such as age spots, sun damage, acne or simply just revitalising your skin at this time of year.
Given the huge range of peels that we currently have available at Dundrum Cosmetic Clinic, it can feel a little overwhelming if you're unsure which one is right for you. All of the products have different properties that are better aligned to different skin types and conditions.
That's why for just €20 we also offer an initial consultation with our trained experts, who can help you decide which skin peel will be best suited to your skin.
If you're interested in taking advantage of this offer as a Christmas present for someone else, remember that you can use our brand new Gift Vouchers to purchase the skin peels.
To purchase yours or simply ask for more information, feel free to call us on 01 2166 778 or book a consultation through our website. Merry Dundrum Christmas!