You may be thinking about throwing a fun Christmas party yourself, but the task may seem a bit daunting. Rest assured that you CAN organise a party with little, or better yet NO stress!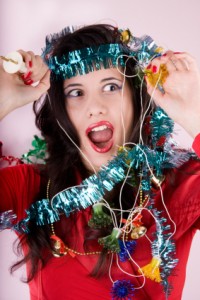 Here are some tips so you can sit back and enjoy the festivities yourself as well as giving your guests a night to remember…
Two weeks before…
Decide how you want everyone to dress. It's YOUR party, so you can choose to make it a dressy cocktail themed party, or a more casual affair.
Then text or email your invites. You want to know your numbers early, so ask them to email or text you back to let you know whether or not they are attending your party.
Plan your menu. If it's a sit down affair you need to be really organised. If you opt for a buffet-style of spread, there's lots of help out there in the form of party platters. I've compiled a list of the main supermarket Christmas party food websites – just click on the following links to get some great menu ideas…
SuperValu Party Food 
Marks & Spencer Christmas Food 
Lidl Christmas Food 
Aldi Christmas Food 
Tesco Christmas Food
If you decide to order in some of your party food (I've placed my order with Marks & Spencer), get your order in soon, as a lot of stores stop taking their food orders in mid-December.
Are any of your guests vegetarian? Do any of them have special dietary needs? Make sure you cater for them too.
Make a list of all the essentials you're going to need for your party so that you don't forget anything before going shopping. Consider the following items:
Plates, napkins, glasses, utensils, decorations, ingredients for any food you may be making yourself, Christmas music, candles, drinks (alcoholic and non-alcoholic).
I've made the mistake more than once of having enough alcohol bought in, but I've run out of soft drinks or mixers half way through the evening. Not this year…
In the next edition of SkinDeep I'll be giving you the low-down on what you need to do closer to your party.
Until then – Keep Calm – and get your ho ho ho on!
Grainne x