Radio Frequency (RF) Skin Tightening and Contouring


---
Radio Frequency (RF) Skin Tightening and Contouring is a revolutionary non-invasive
treatment that tightens loose and saggy skin on both the face and the body.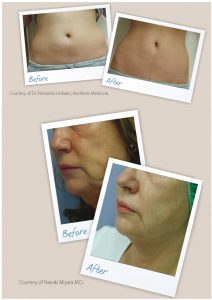 How does the RF Skin tightening treatment work?
RF energy stimulates existing collagen and elastin fibers, enhancing collagen secretion leading to improved skin elasticity.
How soon will I see result?
Immediately from the first session you will notice your skin is firmer, tighter and more youthful. This treatment makes the use of radio waves that produce heat to shrink water molecules in the skin thus making them tighter. The heat causes the collagen fibers to shrink that tighten any loose skin. You can achieve desired results after one sitting or multiple sittings depending upon your situation.
What can RF improve the appearance of?

•       Loose and sagging facial skin, all areas can be treated including the neck and the sensitive area around the eyes.
•       Skin tightening around the tummy, thighs, under arms and hips.
•       Skin tightening for the appearance of stretch marks.
The Benefits of RF Skin Tightening and Contouring
•       Safe and non-invasive treatment with no downtime.
•       Fast treatment and visible results from the first treatment session.
•       little discomfort during, or post treatment.
  Is RF Skin Tightening and Contouring safe?

RF treatment is completely safe and non invasive, it has no downtime which means you can get on with your normal life immediately after treatment.
   How long does each treatment session last?
Each treatment session last 30-40 minutes.
  How many sessions are needed?

A minimum of 6 sessions are needed but anything up to 10 can be required depending on each individual case. Often, we will utilise RF in combination with other treatments to improve the effect, for example nanopore microneedling.
Does it hurt?
Depending on the sensitivity of your skin, you may feel a heated sensation during treatment.
Are there any side effects?
You may experience some redness and swelling in the treated area after a radio frequency treatment, but these symptoms should resolve themselves within 24-48 hours.
 How much does it cost?
The cost per session is 150 euros or you can get a package of 4 sessions for 500 euros.
Should you have any questions please phone us 01 2166 778 or Contact Us – we would be delighted to help