Fat Reduction-Ultrashape
The New UltraShape® body contouring procedure for fat reduction is a safe, non invasive treatment that:
–Reduces unwanted fat deposits
–Reduces body circumference
–Improves body shape
–Tightens skin*
–Temporarily reduces the appearance of cellulite*
* Using the new RFVac applicator
No surgery
No incisions
No injections
No downtime
No maintenance treatments
How Does the Fat Reduction UltraShape® Work?
Pulsed Focused Ultrasound energy is applied to the outer skin to target and selectively and permanently break down fat cells in the underlying fat layers.
Fat cells are disrupted (permanently destroyed) while surrounding structures such as blood vessels, nerves and connective tissues are unharmed.
What Happens to the Fat?
The UltraShape technology targets and breaks down fat cells.
Once the fat cells are broken down, the freed triglycerides (fat) are safely cleared from the local area, processed by the body's natural physiological and metabolic pathways, and transported to the liver to be used as energy.
Clinical studies have proven that there are no clinically significant changes in lipid profiles.
Innovative Technology
Advanced Tracking & Guidance System
The UltraShape procedure is guided by a proprietary real-time tracking and guidance system for 3D mapping of the body's curvature to ensure complete and uniform energy delivery over the entire treatment area, minimizing the risk of contour irregularities, a common side effect of liposuction.
Each point is treated only once
Ensures complete & uniform coverage of treatment area
Automatically adjusts to patient's movement
Benefit: Ensures smooth uniform body contouring results
Bi-Polar Radio Frequency and Integrated Vacuum
RF energy penetrates the skin surface and targets adipose (fat) tissue and cellulite pockets
The dual mode RF energy treats superficial or deep tissue by heating collagen and promoting the production of new collagen and elastin and by tightening of the skin and the underlying tissue
The integrated vacuum therapy works with the RF energy to increase blood circulation and lymphatic drainage and accelerate the clearance of the liquefied fat
Both mechanisms work with the body's natural regeneration processes to ensure effective and safe treatments
Am I a Candidate for UltraShape® & RFVac™?
The UltraShape and RFVac procedure is for:
–Men & Women
–Body sculpting by:
Reduction of localized fat deposits
Reducing body circumference
Temporarily reducing the appearance of cellulite
Tightening tissue
It is not a treatment for:
–Weight loss
–Obesity
–Significant skin laxity
–Patients with unrealistic expectations
What Body Areas Can be Treated?
The safety and efficacy of UltraShape has been clinically proven for the following areas:
– Abdomen
– Thighs ("saddle bags")
– Flanks ("love handles")
Discuss the treatment of specific body areas with your physician
How Does It Feel?
The UltraShape® procedure is performed during a convenient, "walk-in, walk-out" session carried out in an office-based environment
The procedure requires no anesthesia or sedation
As a handheld device delivering pulsating focused ultrasound energy gently glides over the treatment area most patients report a slight-to-moderate tingling sensation
Vast majority of patients report a comfortable treatment experience
How Many Treatments are Required?
To achieve optimal results, patients should undergo a series of three treatments, two weeks apart and lead a healthy lifestyle including good diet and regular exercise.
Please consult your physician for complete treatment details as each patient should follow a personalized program and undergo the recommended number of treatments in order to maximize results
What Results Can I Expect?
Results may vary
Clinical studies show average circumference reduction that ranges from 3.5 to 6.3 cm after 3 treatments
Not everyone will experience similar results, each individual's body responds differently to the treatment
What Can I Expect After the Treatment?
After treatment, patients immediately resume their daily routines and there is no need for maintenance treatments as long as you maintain your weight with a healthy diet and exercise
Patients should avoid weight gain to maximize results
Healthy diet and routine exercise are strongly recommended to help clear the broken down (liquefied) fat and assist the body in burning (consume) the released free fatty acids as a source of energy. It will optimize your UltraShape experience and may improve the results.
When Can I Expect to See Results?
A published clinical study showed that most of the circumference and fat thickness reduction is seen within the first 14 – 21 days after treatment and maximum results are seen about 30-90 days post final treatment
3 treatments at two week intervals are recommended for most patients to see optimal results
How Long Will the Results Last?
Just as with liposuction, once fat cells are removed from the treatment area the results are expected to be long lasting, as long as you maintain your weight with a healthy diet and exercise
Is the UltraShape® Procedure Safe?
The UltraShape procedure has an excellent safety record
Hundreds of thousands of patient treatments have been safely performed worldwide
As with any medical procedure there is always some risk
• Ask your doctor if you would like additional information on the safety of the UltraShape procedure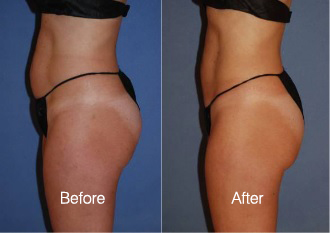 Reduction 3.1 cm1
Weight loss = 1 lb
Photos Courtesy of Dr. Mark Lupin, Victoria, British Columbia
How much does it cost?
A single treatment is 500 euro, while a package of 3 sessions (recommended) is just 1200 euro.
GIVE YOUR BODY THE SHAPE YOU WANT!
Comfortable treatment
Homogeneous fat reduction throughout the entire targeted treatment area – no contour irregularities
No bruising, swelling or downtime with focused ultrasound
Safe, simple, "walk-in, walk-out" procedure
Long-lasting measurable results within just a few weeks
To contact us for a free assessment simply complete the Contact Us form, or call us on 01-2166 778